This is starting to become a weekly adventure, but I really want to parse through my TBR!
The rules:
Go to your goodreads to-read shelf.
Order on ascending date added.
Take the first 5 (or 10 if you're feeling adventurous) books
Read the synopses of the books
Decide: keep it or should it go?
In Pornland—the culmination of her life's work—Dines takes an unflinching look at porn and its affect on our lives. Astonishingly, the average age of first viewing porn is now 11.5 years for boys, and with the advent of the Internet, it's no surprise that young people are consuming more porn than ever. But, as Dines shows, today's porn is strikingly different from yesterday's Playboy. As porn culture has become absorbed into pop culture, a new wave of entrepreneurs are creating porn that is even more hard-core, violent, sexist, and racist. To differentiate their products in a glutted market, producers have created profitable niche products—like teen sex, torture porn, and gonzo—in order to entice a generation of desensitized users.
Going from the backstreets to Wall Street, Dines traces the extensive money trail behind this multibillion-dollar industry—one that reaps more profits than the film and music industries combined. Like Big Tobacco—with its powerful lobbying groups and sophisticated business practices—porn companies don't simply sell products. Rather they influence legislators, partner with mainstream media, and develop new technologies like streaming video for cell phones. Proving that this assembly line of content is actually limiting our sexual freedom, Dines argues that porn's omnipresence has become a public health concern we can no longer ignore.
I have been wanting to read this book for a while now, but a lot of the reviews say it is kind of poorly written and doesn't have a lot of good sourcing. I'd rather read something more educational than this, I think. TOSS.
Scott Pilgrim's life is totally sweet. He's 23 years old, he's in a rockband, he's "between jobs" and he's dating a cute high school girl. Nothing could possibly go wrong, unless a seriously mind-blowing, dangerously fashionable, rollerblading delivery girl named Ramona Flowers starts cruising through his dreams and sailing by him at parties. Will Scott's awesome life get turned upside-down? Will he have to face Ramona's seven evil ex-boyfriends in battle? The short answer is yes. The long answer is Scott Pilgrim, Volume 1: Scott Pilgrim's Precious Little Life.
I gotta get to this soon. KEEP!
Told from a female zombie's perspective, IZOMBIE is a smart, witty detective series with a mix of urban fantasy and romantic dramedy. Gwendolyn "Gwen" Dylan is a 20-something gravedigger in an eco-friendly cemetery. Once a month she must eat a human brain to keep from losing her memories, but in the process she becomes consumed with the thoughts and personality of the dead person until she eats the next brain. She sets out to fulfill the dead person's last request, solve a crime, or right a wrong.
This show is actually really wonderful and I love it, so I gotta read the graphic novel on which it was based. KEEP.
An honest and poignant collection of essays by women about losing their virginity in their teens. The V-Word captures the complexity of this important life-decision and reflects diverse real-world experiences. Includes helpful resources for parents and teens.
Losing it. Popping your cherry. Handing in your V-card.
First time sex is a big unknown. Will it be candlelight and rose petals or quick and uncomfortable? Is it about love or about lust? Deciding to have sex for the first time is a choice that's often fraught with anxiety and joy. But do you have anyone telling you what sex is really like?
In The V-Word seventeen writers (including Christa Desir, Justina Ireland, Sara Ryan, Carrie Mesrobian, Erica Lorraine Scheidt, and Jamia Wilson) pull back the sheets and tell all, covering everything from straight sex to queer sex, diving-in versus waiting, and even the exhilaration and disappointment that blankets it all. Some of their experiences happened too soon, some at just the right time, but all paint a broad picture of what first-time sex is really like.
This seems like another book that seems different than I originally thought it seemed. And there are a lot of iffy reviews. TOSS.
This is a gutsy, fun-loving, and provocative novel in which a bean can philosophises, a dessert spoon mystifies, a young waitress takes on the New York art world, and a rowdy redneck welder discovers the lost god of Palestine.
A friend of mine recommended this ages ago and I haven't gotten around to it yet! KEEP.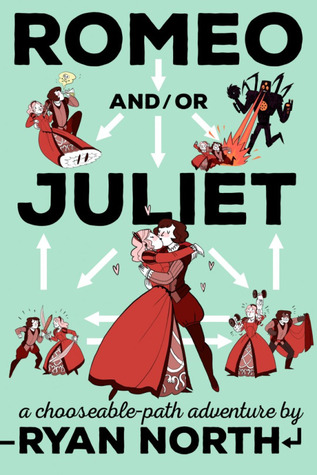 What if Romeo never met Juliet? What if Juliet got really buff instead of moping around all day? What if they teamed up to take over Verona with robot suits? This choose-your-own-path version of Romeo and Juliet—packed with fun puzzles, secrets, and quadrillions of possible storylines—lets you decide where the plot goes every time you read. You might play as Romeo, or as Juliet, or as both of them at the same time. You might even unlock additional playable characters!
How have I still not read this yet?? KEEP.
Meet Brás de Oliva Domingos. The miracle child of a world-famous Brazilian writer, Brás spends his days penning other people's obituaries and his nights dreaming of becoming a successful author himself—writing the end of other people's stories, while his own has barely begun.
But on the day that life begins, would he even notice? Does it start at 21 when he meets the girl of his dreams? Or at 11, when he has his first kiss? Is it later in his life when his first son is born? Or earlier when he might have found his voice as a writer?
Each day in Brás's life is like a page from a book. Each one reveals the people and things who have made him who he is: his mother and father, his child and his best friend, his first love and the love of his life. And like all great stories, each day has a twist he'll never see coming…
This has a beautiful cover and a 4.31 star rating on GR. KEEP.
Wrapped in the landscape of a blustery Wisconsin winter, Blankets explores the sibling rivalry of two brothers growing up in the isolated country, and the budding romance of two coming-of-age lovers. A tale of security and discovery, of playfulness and tragedy, of a fall from grace and the origins of faith.
This sounds so lovely and will be wonderful to read this winter. KEEP.
How to Fail at Almost Everything and Still Win Big
Scott Adams has likely failed at more things than anyone you've ever met or anyone you've even heard of. So how did he go from hapless office worker and serial failure to the creator of Dilbert, one of the world's most famous syndicated comic strips, in just a few years? In How to Fail at Almost Everything and Still Win Big, Adams shares the strategy he has used since he was a teen to invite failure in, to embrace it, then pick its pocket.
This just… doesn't sound like it'll do it for me atm. TOSS.
A behind-the-scenes look at the firm behind WordPress.com and the unique work culture that contributes to its phenomenal success50 million websites, or twenty percent of the entire web, use WordPress software. The force behind WordPress.com is a convention-defying company called Automattic, Inc., whose 120 employees work from anywhere in the world they wish, barely use email, and launch improvements to their products dozens of times a day. With a fraction of the resources of Google, Amazon, or Facebook, they have a similar impact on the future of the Internet. How is this possible? What's different about how they work, and what can other companies learn from their methods?
To find out, former Microsoft veteran Scott Berkun worked as a manager at WordPress.com, leading a team of young programmers developing new ideas. "The Year Without Pants" shares the secrets of WordPress.com's phenomenal success from the inside. Berkun's story reveals insights on creativity, productivity, and leadership from the kind of workplace that might be in everyone's future.Offers a fast-paced and entertaining insider's account of how an amazing, powerful organization achieves impressive resultsIncludes vital lessons about work culture and managing creativityWritten by author and popular blogger Scott Berkun (scottberkun.com)
Again, just doesn't seem up my alley. TOSS.
I got rid of 4/10 again, nice!! Last week my TBR was at 304, and after today's venture it is at… 329. Uh, how did this happen??? I'm my own worst enemy, I guess.
You can also follow me on Twitter and Goodreads.
(All covers and blurbs courtesy of Goodreads.)