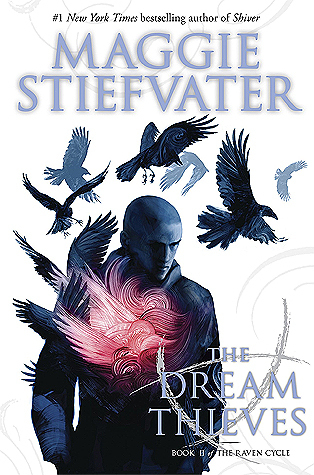 The Dream Thieves (The Raven Cycle #2) by Maggie Stiefvater
Published by Scholastic Press on September 17, 2013
439 pages.
my rating: ⭐️⭐️⭐️⭐️⭐️
Goodreads avg: 4.27
Spoiler-free Review 
Goodreads | IndieBound | Author's Website
Now that the ley lines around Cabeswater have been woken, nothing for Ronan, Gansey, Blue, and Adam will be the same. Ronan, for one, is falling more and more deeply into his dreams, and his dreams are intruding more and more into waking life. Meanwhile, some very sinister people are looking for some of the same pieces of the Cabeswater puzzle that Gansey is after…
As I mentioned in my review on The Raven Boys, I first started this series several years ago. It lost my interest and I moved away from it, until this past year. In October, I decided to reread TRB and to attempt to continue the series in a more timely manner. I gave TRB five stars and waited a bit before moving on to The Dream Thieves.
The last time I attempted The Dream Thieves, it had been some time since I had read TRB. Because of this, I had forgotten a lot of the plot and the characters and it just didn't hold my interest at all. This time, I didn't wait too long to jump into it, and I latched onto the story.
This was such a good sequel!! I absolutely adored the characters and the storyline. Stiefvater broke my god damn heart repeatedly and I had to keep texting my friend Grace whenever I had something to yell about.
This book focuses a little more on Ronan than the other characters, although of course they all play relatively large roles. I never thought I would like Ronan, but this book made me adore him. My love for Noah stayed strong. Adam has definitely dropped a couple places in my heart, unfortunately. Gansey is adorable and precious and I want to squeeze him to death. And Blue continues to be just wonderful.
I'm trying to breathe a little before moving on to Blue Lily, Lily Blue (aka my library lost my hold  so I'm forced to wait a little longer regardless), but am hoping to continue the series this month!
Twitter | Goodreads
(Cover and blurb courtesy of Goodreads.)