Here are the books on my TBR that have anticipated release dates in March! I haven't read these yet, so if you managed to get an ARC of any, please let me know how you liked 'em!
Awayland
March 6th
An inventive story collection that spans the globe as it explores love, childhood, and parenthood with an electric mix of humor and emotion.
Acclaimed for the grace, wit, and magic of her novels, Ramona Ausubel introduces us to a geography both fantastic and familiar in eleven new stories, some of them previously published in The New Yorker and The Paris Review. Elegantly structured, these stories span the globe and beyond, from small-town America and sunny Caribbean islands to the Arctic Ocean and the very gates of Heaven itself. And though some of the stories are steeped in mythology, they remain grounded in universal experiences: loss of identity, leaving home, parenthood, joy, and longing.
Crisscrossing the pages of Awayland are travelers and expats, shadows and ghosts. A girl watches as her homesick mother slowly dissolves into literal mist. The mayor of a small Midwestern town offers a strange prize, for stranger reasons, to the parents of any baby born on Lenin's birthday. A chef bound for Mars begins an even more treacherous journey much closer to home. And a lonely heart searches for love online–never mind that he's a Cyclops. 
With her signature tenderness, Ramona Ausubel applies a mapmaker's eye to landscapes both real and imagined, all the while providing a keen guide to the wild, uncharted terrain of the human heart.
Children of Blood and Bone
March 6th
Tomi Adeyemi conjures a stunning world of dark magic and danger in her West African-inspired fantasy debut, perfect for fans of Leigh Bardugo and Sabaa Tahir.
Zélie Adebola remembers when the soil of Orïsha hummed with magic. Burners ignited flames, Tiders beckoned waves, and Zelie's Reaper mother summoned forth souls. 
But everything changed the night magic disappeared. Under the orders of a ruthless king, maji were targeted and killed, leaving Zélie without a mother and her people without hope.
Now, Zélie has one chance to bring back magic and strike against the monarchy. With the help of a rogue princess, Zélie must outwit and outrun the crown prince, who is hell-bent on eradicating magic for good. 
Danger lurks in Orïsha, where snow leoponaires prowl and vengeful spirits wait in the waters. Yet the greatest danger may be Zélie herself as she struggles to control her powers—and her growing feelings for the enemy.
Girls Burn Brighter
March 6th
A searing, electrifying debut novel set in India and America, about a once-in-a-lifetime friendship between two girls who are driven apart but never stop trying to find one another again.
When Poornima first meets Savitha, she feels something she thought she lost for good when her mother died: hope. Poornima's father hires Savitha to work one of their sari looms, and the two girls are quickly drawn to one another. Savitha is even more impoverished than Poornima, but she is full of passion and energy. She shows Poornima how to find beauty in a bolt of indigo cloth, a bowl of yogurt rice and bananas, the warmth of friendship. Suddenly their Indian village doesn't feel quite so claustrophobic, and Poornima begins to imagine a life beyond the arranged marriage her father is desperate to lock down for her. But when a devastating act of cruelty drives Savitha away, Poornima leaves behind everything she has ever known to find her friend again. Her journey takes her into the darkest corners of India's underworld, on a harrowing cross-continental journey, and eventually to an apartment complex in Seattle. Alternating between the girls' perspectives as they face relentless obstacles, Girls Burn Brighter introduces two heroines who never lose the hope that burns within them. 
In breathtaking prose, Shobha Rao tackles the most urgent issues facing women today: domestic abuse, human trafficking, immigration, and feminism. At once a propulsive page-turner and a heart-wrenching meditation on friendship, Rao's debut novel is a literary tour de force.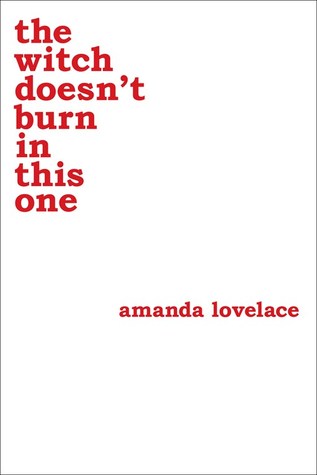 The Witch Doesn't Burn in this One
March 6th
The witch: supernaturally powerful, inscrutably independent, and now—indestructible. These moving, relatable poems encourage resilience and embolden women to take control of their own stories. Enemies try to judge, oppress, and marginalize her, but the witch doesn't burn in this one.
Twitter | Goodreads | Instagram
(Covers and blurbs courtesy of Goodreads.)