Here are the books on my TBR that have anticipated release dates in April! I haven't read these yet, so if you managed to get an ARC of any, please let me know how you liked 'em!
Unwifeable
April 3rd
From the popular, "candid and bold, tender and tough" (Cheryl Strayed) dating columnist for New York magazine and the New York Post comes a whirlwind and "gutsy" (Courtney Love) memoir recounting countless failed romances and blackout nights, told with Mandy Stadtmiller's unflinching candor and brilliant wit.
My story is not unique. Single girl comes to New York; New York eats her alive. But what does stand out is my discovery that you can essentially live a life that appears to be a textbook manual for everything one can do wrong to find love—and still find Mr. Right.
Mandy Stadtmiller came to Manhattan in 2005, newly divorced, thirty years old, with a job at the New York Post, ready to conquer the city and the industry in one fell swoop. Like a "real-life Carrie Bradshaw" (so called by Jenny McCarthy), she proceeded to chronicle her fearless attempts for nearly a decade in the Post, New York magazine, and xoJane.
But underneath the glitz and glamour of her new life, there is a darker side threatening to surface. She goes through countless failed high-profile hookups in the New York comedy and writing scene. There are soon too many nights she can't remember, and the blind spots start to add up. She begins to realize that falling in love won't fix her—she needs to fix herself first.
Unwifeable is a New York fairytale brought to life—Sex and the City on acid. With hysterical insight, unabashed sexuality, and unprecedented levels of raw, honest pain, Unwifeable is a "blisteringly candid" (Sarah Hepola, New York Times bestselling author of Blackout) book that you can't help but respond and relate to—perfect for fans of Amy Schumer and Chelsea Handler.
Dread Nation
April 3rd
Jane McKeene was born two days before the dead began to walk the battlefields of Gettysburg and Chancellorsville—derailing the War Between the States and changing America forever. In this new nation, safety for all depends on the work of a few, and laws like the Native and Negro Reeducation Act require certain children attend combat schools to learn to put down the dead. But there are also opportunities—and Jane is studying to become an Attendant, trained in both weaponry and etiquette to protect the well-to-do. It's a chance for a better life for Negro girls like Jane. After all, not even being the daughter of a wealthy white Southern woman could save her from society's expectations.
But that's not a life Jane wants. Almost finished with her education at Miss Preston's School of Combat in Baltimore, Jane is set on returning to her Kentucky home and doesn't pay much mind to the politics of the eastern cities, with their talk of returning America to the glory of its days before the dead rose. But when families around Baltimore County begin to go missing, Jane is caught in the middle of a conspiracy, one that finds her in a desperate fight for her life against some powerful enemies. And the restless dead, it would seem, are the least of her problems.
Devils Unto Dust
April 10th
Ten years ago, a horrifying disease began spreading across the West Texas desert. Infected people—shakes—attacked the living and created havoc and destruction. No one has ever survived the infection. Daisy Wilcox, known as Willie, has been protecting her siblings within the relatively safe walls of Glory, Texas. When Willie's good-for-nothing father steals a fortune from one of the most dangerous shake-hunters in town, she finds herself on the hook for his debt. With two hunters, including the gruff and handsome Ben, to accompany her, she sets out across the desert in search of her father. But the desert is not kind to travelers, and not everyone will pass through alive.
Western meets horror for this riveting story about survival, family, and inner strength. Tense, short chapters propel readers from one action-packed scene to the next, while Willie's distinctive, introspective voice deepens the emotional stakes with every turn of the page. High concept and character-driven, Emma Berquist's debut will satisfy fans of The Magnificent Seven, Rae Carson's Walk on Earth a Stranger, and HBO's Westworld.
Heavy Vinyl, Vol. 1
April 24th
When Chris joins the staff at her local record store, she's surprised to find out that her co-workers share a secret: they're all members of a secret fight club that take on the patriarchy and fight crime!
Starry-eyed Chris has just started the dream job every outcast kid in town wants: working at Vinyl Mayhem. It's as rad as she imagined; her boss is BOSS, her co-workers spend their time arguing over music, pushing against the patriarchy, and endlessly trying to form a band. When Rosie Riot, the staff's favorite singer, mysteriously vanishes the night before her band's show, Chris discovers her co-workers are doing more than just sorting vinyl . . . Her local indie record store is also a front for a teen girl vigilante fight club! 
 
Follow writer Carly Usdin (director of Suicide Kale) and artist Nina Vakueva (Lilith's World) into the Hi-Fi Fight Club, where they deliver a rock and roll tale of intrigue and boundless friendship.
The Atrocities
April 17th
When Isabella died, her parents were determined to ensure her education wouldn't suffer.
But Isabella's parents had not informed her new governess of Isabella's… condition, and when Ms Valdez arrives at the estate, having forced herself through a surreal nightmare maze of twisted human-like statues, she discovers that there is no girl to tutor.
Or is there…?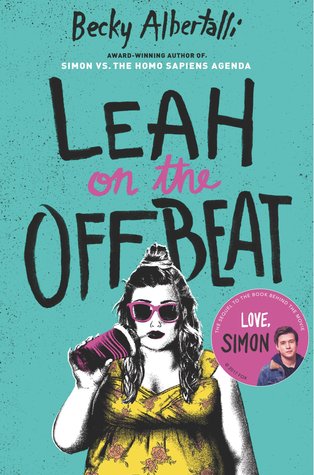 Leah on the Offbeat
April 24th
Leah Burke—girl-band drummer, master of deadpan, and Simon Spier's best friend from the award-winning Simon vs. the Homo Sapiens Agenda—takes center stage in this novel of first love and senior-year angst.
When it comes to drumming, Leah Burke is usually on beat—but real life isn't always so rhythmic. An anomaly in her friend group, she's the only child of a young, single mom, and her life is decidedly less privileged. She loves to draw but is too self-conscious to show it. And even though her mom knows she's bisexual, she hasn't mustered the courage to tell her friends—not even her openly gay BFF, Simon.
So Leah really doesn't know what to do when her rock-solid friend group starts to fracture in unexpected ways. With prom and college on the horizon, tensions are running high. It's hard for Leah to strike the right note while the people she loves are fighting—especially when she realizes she might love one of them more than she ever intended.
Twitter | Goodreads | Instagram
(Covers and blurbs courtesy of Goodreads.)