Started by Lost in a Story, the most fun way to cut down that TBR!
The rules:
Go to your goodreads to-read shelf.
Order on ascending date added.
Take the first 5 (or 10 if you're feeling adventurous) books
Read the synopses of the books
Decide: keep it or should it go?
Boy Proof
Added: March 26, 2017
What happens when an antisocial cinephile meets up with the worldly new guy at school — a quick-witted artist who's savvy enough to see through her sci-fi disguise?
Meet Egg. Her real name is Victoria Jurgen, but she's renamed herself after the kick-ass heroine of her favorite sci-fi movie, Terminal Earth. Like her namesake, Egg dresses all in white, colors her eyebrows, and shaves her head. She always knows the right answers, she's always in control, and she's far too busy — taking photos for the school paper, meeting with the Science Fiction and Fantasy Club, and hanging out at the creature shop with her dad, the special-effects makeup wizard — to be bothered with friends, much less members of the opposite sex. As far as Egg is concerned, she's boy proof, and she likes it that way. But then Egg meets a boy named Max, a boy who's smart and funny and creative and cool…and happens to like Egg. Could this be the end of the world — at least as Egg knows it?
I don't really feel like reading a book where the MC ~*~*just needs the right guy to make her interested in love~*~* and I'm not sure how or why I added this. REMOVE.
Seconds
Added: March 26, 2017
Katie's got it pretty good. She's a talented young chef, she runs a successful restaurant, and she has big plans to open an even better one. Then, all at once, progress on the new location bogs down, her charming ex-boyfriend pops up, her fling with another chef goes sour, and her best waitress gets badly hurt. And just like that, Katie's life goes from pretty good to not so much. What she needs is a second chance. Everybody deserves one, after all—but they don't come easy. Luckily for Katie, a mysterious girl appears in the middle of the night with simple instructions for a do-it-yourself do-over:
 
1. Write your mistake
2. Ingest one mushroom
3. Go to sleep
4. Wake anew
 
And just like that, all the bad stuff never happened, and Katie is given another chance to get things right. She's also got a dresser drawer full of magical mushrooms—and an irresistible urge to make her life not just good, but perfect. Too bad it's against the rules. But Katie doesn't care about the rules—and she's about to discover the unintended consequences of the best intentions.
 
From the mind and pen behind the acclaimed Scott Pilgrim series comes a madcap new tale of existential angst, everyday obstacles, young love, and ancient spirits that's sharp-witted and tenderhearted, whimsical and wise.
I really want to read more Bryan Lee O'Malley and this sounds fun! KEEP.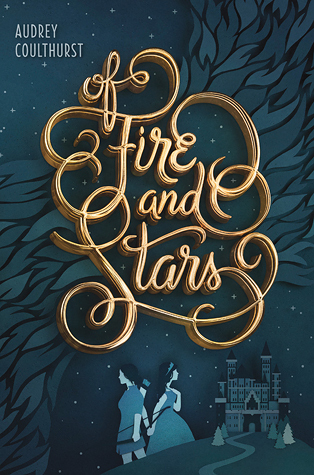 Of Fire and Stars
Added: March 27, 2017
Betrothed since childhood to the prince of Mynaria, Princess Dennaleia has always known what her future holds. Her marriage will seal the alliance between Mynaria and her homeland, protecting her people from other hostile lands. But Denna has a secret. She possesses an Affinity for fire—a dangerous gift for the future queen of a kingdom where magic is forbidden.
Now, Denna must learn the ways of her new home while trying to hide her growing magic. To make matters worse, she must learn to ride Mynaria's formidable warhorses—and her teacher is the person who intimidates her most, the prickly and unconventional Princess Amaranthine—called Mare—the sister of her betrothed.
When a shocking assassination leaves the kingdom reeling, Mare and Denna reluctantly join forces to search for the culprit. As the two become closer, Mare is surprised by Denna's intelligence and bravery, while Denna is drawn to Mare's independent streak. And soon their friendship is threatening to blossom into something more.
But with dangerous conflict brewing that makes the alliance more important than ever, acting on their feelings could be deadly. Forced to choose between their duty and their hearts, Mare and Denna must find a way to save their kingdoms—and each other.
I'm not super taken in by the plot, but it's tagged as lgbtqia soooo. KEEP.
Crave
Added: March 27, 2017
February 2007, a landmark clinical study by researchers at Harvard University was published in Biological Psychiatry and was soon picked up widely by the media. A survey of 3,000 participants found that 2.8 percent of them suffered from binge eating disorder (BED); that women were twice as likely to report binge eating; and that BED occurs across the age span, from children to the elderly. By extrapolating the statistics to the general population, health professionals estimate 5,250,000 American women and 3,000,000 men suffer from binge eating. The same month the study was published Jane Brody revealed in the New York Times that when she was a 23 years old, her food binges were so extreme that "Many mornings I awakened to find partly chewed food still in my mouth…."
Cynthia Bulik, director of the UNC Eating Disorders Progam, is a foremost authority on binge eating. BED can affect anyone, and can be caused by brain chemistry, genetic predisposition, psychology, and cultural pressures–but none of those triggers make giving in to food cravings inevitable. Crave helps readers understand why they crave specific foods, recognize their individual triggers, and modify their responses to those triggers. Binge eating disorder is highly treatable; 70% to 80% of patients at the UNC Eating Disorders Program triumph over their binge eating by using techniques to "curb the crave." Through the stories of some of these patients–men and women, young and old–and with the guidance of Bulik, readers will develop a variety of strategies to use in conquering their cravings and establishing healthy eating habits.
Reviews aren't great and it sounds like it's kind of fat-shamey, which I'm not about. REMOVE.
A Tragic Kind of Wonderful
Added: March 27, 2017
For sixteen-year-old Mel Hannigan, bipolar disorder makes life unpredictable. Her latest struggle is balancing her growing feelings in a new relationship with her instinct to keep everyone at arm's length. And when a former friend confronts Mel with the truth about the way their relationship ended, deeply buried secrets threaten to come out and upend her shaky equilibrium.
As the walls of Mel's compartmentalized world crumble, she fears the worst—that her friends will abandon her if they learn the truth about what she's been hiding. Can Mel bring herself to risk everything to find out?
The blurb is hella vague, but I am interested in reading some YA with bipolar rep! KEEP.
I only managed to remove 2 out of 5 books today. Any decisions you would have made differently?
Previous: Down the TBR Hole #14
Twitter | Goodreads | Instagram
(All covers and blurbs courtesy of Goodreads.)