I'm so stoked that Wendy put together this tag!! If y'all haven't checked out her wonderful blog yet, then you totally need to. You can find it linked below in the rules. I was tagged by her, so here are my responses. 🙂
The Rules:
Credit the original creator, whatthelog
Answer the questions!
Tag as many or as few people as you like 🙂
That's it! Now onto the questions…
1. Name a book that lifts your spirits, even when times are tough.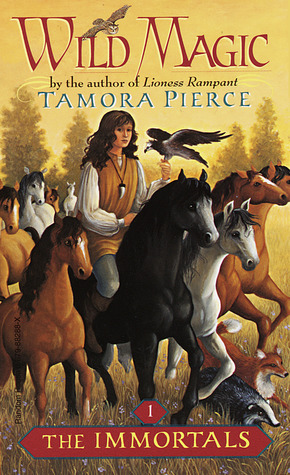 Tamora Pierce books have always soothed my soul! Gotta love amazing female leads, talking animals, and magic galore.
2. What book about mental health is on your TBR? Why?
It's Kind of a Funny Story has been on my TBR forever, since I've heard so much about it. I have about a billion mental health books on my TBR, but I think this one has probably been there the longest (in my mind, anyway).
3. Name a non-fiction book about mental health.
This is one of several  books by Kay Redfield Jamison on my TBR. Unfortunately, I have not read anything by her yet, but my psychiatrist recommended that I do!
4. Read this, not that – name a book with a good depiction of mental health, and one with a problematic depiction of mental health.
For a good depiction, I chose Lost at Sea by Bryan O'Malley. I'm not sure if Raleigh is truly supposed to be coded as struggling with mental illness, but her thought processes really mirrored how mine are during a depressive episode and I related really hard to this. It was just a really influential read for me!
Ugh I wrote a whole review on my issues with this book, and it's portrayal of mental health is one of them. One of the main characters is a stalker, who literally watches a girl in her sleep and kills an animal for no reason. Everybody just kind of blames it on him being mentally ill and doesn't really care and it's, uh, bizarre.
5. Other than reading, what helps when you're feeling low?
Going for long walks while listening to podcasts, taking a bath, lighting candles, watching something goofy on TV or youtube.
6. Name a book that is intersectional – e.g. there is a character of colour or lgbt+ character with low mental health
The MC in The Roses of May is a woman of color who is struggling with grief, depression, anxiety, and an eating disorder.
7. Why do you think accurate representations of mental health is important?
They're important because there are so many misconceptions about mental illness out there! Particularly when it comes to disorders that people consider to be more "dangerous" like bipolar disorder or schizophrenia. I think it's hard for folx to remember that these are real people, and that they are more than their mental health. It's also important because it is easier to support people with mental illness if you can understand to some extent what they're going through, and I think representation helps with this.
8. Name a book about a less well-known mental health condition.
Okay, another Kay Redfield Jamison book on my TBR… This one is about manic depression (bipolar disorder), which isn't necessarily less well-known, but certainly less well-understood by the general public.
9. What book would you recommend to someone looking to learn more about mental health?
I'd recommend The Bell Jar, just because I was really struck by reading it and think it's an accurate portrayal of depression and how deep it goes.
I tag anyone who'd like to participate! Please tag me in your post or comment the link here so I can see what you have to say. 🙂