So Brittany @ Beauty and the Bean Boots (is that not the cutest blog name ever??) did this post on Most Read Authors on Goodreads and I thought it looked fun! To find your most read authors on Goodreads, just go to "My Books" and click on "Most Read Authors" on the left-hand side. Without further ado, here we go!
Lemony Snicket, 14 books (A Series of Unfortunate Events & The Unauthorized Autobiography)
Tamora Pierce, 11 books (Immortals Series, Song of the Lioness Series, Daughter of the Lioness Series, and First Test) (The cover below is probably one of my all-time favorite book covers TBH)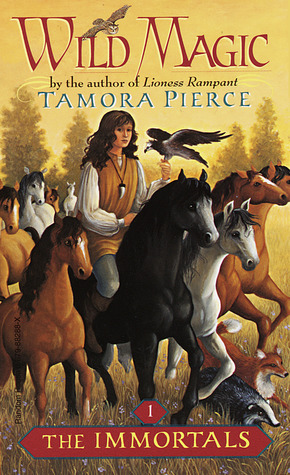 Kurt Vonnegut, 9 books (The Sirens of Titan; Slaughterhouse-Five; Breakfast of Champions; A Man Without Country; Galapagos; Mother Night; If This Isn't Nice, What Is?; Cat's Cradle; Look at the Birdie)
Stephen King, 8 books (Pet Semetary; Storm of the Century; Misery; Carrie; Cell; Nightmares and Dreamscapes; Gerald's Game; The Green Mile)
JK Rowling, 7 books (I think we all know which 7)
And there you have it! Are any of these authors on your top lists? What do my top authors say about me? Let me know in the comments. You can also follow me on Twitter and Goodreads.