Top 10 Tuesday is a weekly meme hosted by The Broke and the Bookish. This week's theme is a Throwback Freebie! I'm showing off books that were published prior to 2000 that I gave 5 stars to (kind of cheating with the last one–but I'm not leaving House of Leaves off my list!). They are listed in order from first published to most recently published!
Woman at Point Zero
First Published: 1975
"However, every single man I did get to know filled me with but one desire: to lift my hand and bring it smashing down on his face." 
So begins Firdaus's story, leading to her grimy Cairo prison cell, where she welcomes her death sentence as a relief from her pain and suffering. Born to a peasant family in the Egyptian countryside, Firdaus suffers a childhood of cruelty and neglect. Her passion for education is ignored by her family, and on leaving school she is forced to marry a much older man. Following her escapes from violent relationships, she meets Sharifa, who leads her into a life of prostitution, telling her that 'a man does not know a woman's value … the higher you price yourself the more he will realize what you are really worth.' Desperate and alone, she takes drastic action.
Saadawi's searing indictment of society's brutal treatment of women continues to resonate today. This classic novel has been an inspiration to countless people across the world.
Alanna: The First Adventure
First Published: 1983
Though a girl, Alanna has always craved the adventure and daring allowed only for boys; her twin brother, Thom, yearns to learn the art of magic. So one day they decide to switch places: Thom heads for the convent to learn magic; Alanna, pretending to be a boy, is on her way to the castle of King Roald to begin her training as a page.
But the road to knighthood is not an easy one. As Alanna masters the skills necessary for battle, she must also learn to control her heart and to discern her enemies from her allies.
Pet Sematary
First Published: 1983
Sometimes dead is better….When the Creeds move into a beautiful old house in rural Maine, it all seems too good to be true: physician father, beautiful wife, charming little daughter, adorable infant son — and now an idyllic home. As a family, they've got it all…right down to the friendly cat. But the nearby woods hide a blood-chilling truth — more terrifying than death itself…and hideously more powerful.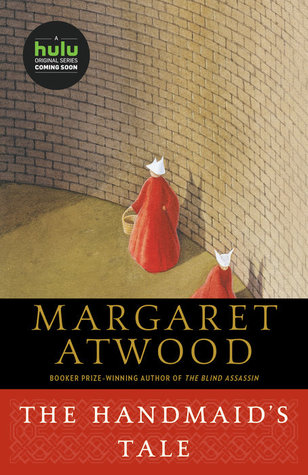 The Handmaid's Tale
First Published: 1985
Offred is a Handmaid in the Republic of Gilead. She may leave the home of the Commander and his wife once a day to walk to food markets whose signs are now pictures instead of words because women are no longer allowed to read. She must lie on her back once a month and pray that the Commander makes her pregnant, because in an age of declining births, Offred and the other Handmaids are valued only if their ovaries are viable. Offred can remember the years before, when she lived and made love with her husband, Luke; when she played with and protected her daughter; when she had a job, money of her own, and access to knowledge. But all of that is gone now… 
Ender's Game
First Published: 1985
Andrew "Ender" Wiggin thinks he is playing computer simulated war games; he is, in fact, engaged in something far more desperate. The result of genetic experimentation, Ender may be the military genius Earth desperately needs in a war against an alien enemy seeking to destroy all human life. The only way to find out is to throw Ender into ever harsher training, to chip away and find the diamond inside, or destroy him utterly. Ender Wiggin is six years old when it begins. He will grow up fast.
But Ender is not the only result of the experiment. The war with the Buggers has been raging for a hundred years, and the quest for the perfect general has been underway almost as long. Ender's two older siblings, Peter and Valentine, are every bit as unusual as he is, but in very different ways. While Peter was too uncontrollably violent, Valentine very nearly lacks the capability for violence altogether. Neither was found suitable for the military's purpose. But they are driven by their jealousy of Ender, and by their inbred drive for power. Peter seeks to control the political process, to become a ruler. Valentine's abilities turn more toward the subtle control of the beliefs of commoner and elite alike, through powerfully convincing essays. Hiding their youth and identities behind the anonymity of the computer networks, these two begin working together to shape the destiny of Earth-an Earth that has no future at all if their brother Ender fails.
Jurassic Park
First Published: 1990
A billionaire has created a technique to clone dinosaurs. From the DNA that his crack team of scientists extract, he is able to grow the dinosaurs in his laboratories and lock them away on an island behind electric fences, creating a sort of theme park. He asks a group of scientists from several different fields to come and view the park, but something goes terribly wrong when a worker on the island turns traitor and shuts down the power.
A Game of Thrones
First Published: 1996
Summers span decades. Winter can last a lifetime. And the struggle for the Iron Throne has begun.
As Warden of the north, Lord Eddard Stark counts it a curse when King Robert bestows on him the office of the Hand. His honour weighs him down at court where a true man does what he will, not what he must … and a dead enemy is a thing of beauty.
The old gods have no power in the south, Stark's family is split and there is treachery at court. Worse, the vengeance-mad heir of the deposed Dragon King has grown to maturity in exile in the Free Cities. He claims the Iron Throne.
Ella Enchanted
First Published: 1997
At birth, Ella is inadvertently cursed by an imprudent young fairy named Lucinda, who bestows on her the "gift" of obedience. Anything anyone tells her to do, Ella must obey. Another girl might have been cowed by this affliction, but not feisty Ella: "Instead of making me docile, Lucinda's curse made a rebel of me. Or perhaps I was that way naturally." When her beloved mother dies, leaving her in the care of a mostly absent and avaricious father, and later, a loathsome stepmother and two treacherous stepsisters, Ella's life and well-being seem to be in grave peril. But her intelligence and saucy nature keep her in good stead as she sets out on a quest for freedom and self-discovery as she tries to track down Lucinda to undo the curse, fending off ogres, befriending elves, and falling in love with a prince along the way. Yes, there is a pumpkin coach, a glass slipper, and a happily ever after, but this is the most remarkable, delightful, and profound version of Cinderella you'll ever read.
White Oleander
First Published: 1999
Everywhere hailed as a novel of rare beauty and power, White Oleander tells the unforgettable story of Ingrid, a brilliant poet imprisoned for murder, and her daughter, Astrid, whose odyssey through a series of Los Angeles foster homes–each its own universe, with its own laws, its own dangers, its own hard lessons to be learned–becomes a redeeming and surprising journey of self-discovery.
House of Leaves
First Published: 2000
Years ago, when House of Leaves was first being passed around, it was nothing more than a badly bundled heap of paper, parts of which would occasionally surface on the Internet. No one could have anticipated the small but devoted following this terrifying story would soon command. Starting with an odd assortment of marginalized youth—musicians, tattoo artists, programmers, strippers, environmentalists, and adrenaline junkies—the book eventually made its way into the hands of older generations, who not only found themselves in those strangely arranged pages but also discovered a way back into the lives of their estranged children.
Now, for the first time, this astonishing novel is made available in book form, complete with the original colored words, vertical footnotes, and newly added second and third appendices.
The story remains unchanged, focusing on a young family that moves into a small home on Ash Tree Lane where they discover something is terribly wrong: their house is bigger on the inside than it is on the outside.
Of course, neither Pulitzer Prize-winning photojournalist Will Navidson nor his companion Karen Green was prepared to face the consequences of that impossibility, until the day their two little children wandered off and their voices eerily began to return another story—of creature darkness, of an ever-growing abyss behind a closet door, and of that unholy growl which soon enough would tear through their walls and consume all their dreams.
Have you read any of these? What did you do for your T10T?
Thanks for reading! You can also find me on Twitter and Goodreads.
(All covers and blurbs courtesy of Goodreads.)