Obligatory "I can't believe it's almost November???" comment because, uh, is it seriously almost November? While I have an existential crisis over the passing of time, y'all can check out the handful of books on my TBR that are coming out soon: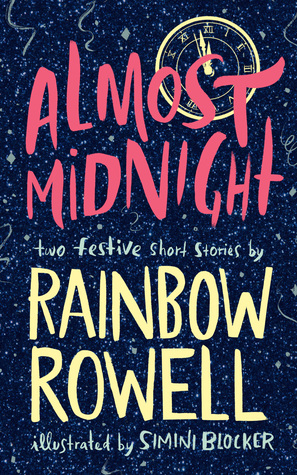 Almost Midnight
November 2, 2017
Almost Midnight by Rainbow Rowell is a beautiful gift edition containing two wintery short stories, decorated throughout for the first time with gorgeous black and white illustrations by Simini Blocker.
Midnights is the story of Noel and Mags, who meet at the same New Year's Eve party every year and fall a little more in love each time . . .
Kindred Spirits is about Elena, who decides to queue to see the new Star Wars movie and meets Gabe, a fellow fan.
Midnights was previously published as part of the My True Love Gave to Me anthology, edited by Stephanie Perkins and Kindred Spirits was previously published as a World Book Day title.
Future Home of the Living God
November 14, 2017
The world as we know it is ending. Evolution has reversed itself, affecting every living creature on earth. Science cannot stop the world from running backwards, as woman after woman gives birth to infants that appear to be primitive species of humans. Thirty-two-year-old Cedar Hawk Songmaker, adopted daughter of a pair of big-hearted, open-minded Minneapolis liberals, is as disturbed and uncertain as the rest of America around her. But for Cedar, this change is profound and deeply personal. She is four months pregnant.
Though she wants to tell the adoptive parents who raised her from infancy, Cedar first feels compelled to find her birth mother, Mary Potts, an Ojibwe living on the reservation, to understand both her and her baby's origins. As Cedar goes back to her own biological beginnings, society around her begins to disintegrate, fueled by a swelling panic about the end of humanity. 
There are rumors of martial law, of Congress confining pregnant women. Of a registry, and rewards for those who turn these wanted women in. Flickering through the chaos are signs of increasing repression: a shaken Cedar witnesses a family wrenched apart when police violently drag a mother from her husband and child in a parking lot. The streets of her neighborhood have been renamed with Bible verses. A stranger answers the phone when she calls her adoptive parents, who have vanished without a trace. It will take all Cedar has to avoid the prying eyes of potential informants and keep her baby safe. 
A chilling dystopian novel both provocative and prescient, Future Home of the Living God is a startlingly original work from one of our most acclaimed writers: a moving meditation on female agency, self-determination, biology, and natural rights that speaks to the troubling changes of our time.
The City of Brass
November 14, 2017
Step into The City of Brass, the spellbinding debut from S. A. Chakraborty—an imaginative alchemy of The Golem and the Jinni, The Grace of Kings, and One Thousand and One Nights, in which the future of a magical Middle Eastern kingdom rests in the hands of a clever and defiant young con artist with miraculous healing gifts
Nahri has never believed in magic. Certainly, she has power; on the streets of 18th century Cairo, she's a con woman of unsurpassed talent. But she knows better than anyone that the trade she uses to get by—palm readings, zars, healings—are all tricks, sleights of hand, learned skills; a means to the delightful end of swindling Ottoman nobles. 
But when Nahri accidentally summons an equally sly, darkly mysterious djinn warrior to her side during one of her cons, she's forced to accept that the magical world she thought only existed in childhood stories is real. For the warrior tells her a new tale: across hot, windswept sands teeming with creatures of fire, and rivers where the mythical marid sleep; past ruins of once-magnificent human metropolises, and mountains where the circling hawks are not what they seem, lies Daevabad, the legendary city of brass–a city to which Nahri is irrevocably bound. 
In that city, behind gilded brass walls laced with enchantments, behind the six gates of the six djinn tribes, old resentments are simmering. And when Nahri decides to enter this world, she learns that true power is fierce and brutal. That magic cannot shield her from the dangerous web of court politics. That even the cleverest of schemes can have deadly consequences. 
After all, there is a reason they say be careful what you wish for . . .
Not Now, Not Ever
November 21, 2017
Elliot Gabaroche is very clear on what she isn't going to do this summer. 
1. She isn't going to stay home in Sacramento, where she'd have to sit through her stepmother's sixth community theater production of The Importance of Being Earnest.
2. She isn't going to mock trial camp at UCLA.
3. And she certainly isn't going to the Air Force summer program on her mother's base in Colorado Springs. As cool as it would be to live-action-role-play Ender's Game, Ellie's seen three generations of her family go through USAF boot camp up close, and she knows that it's much less Luke/Yoda/"feel the force," and much more one hundred push-ups on three days of no sleep. And that just isn't appealing, no matter how many Xenomorphs from Alien she'd be able to defeat afterwards.
What she is going to do is pack up her attitude, her favorite Octavia Butler novels, and her Jordans, and go to summer camp. Specifically, a cutthroat academic-decathlon-like competition for a full scholarship to Rayevich College, the only college with a Science Fiction Literature program. And she's going to start over as Ever Lawrence, on her own terms, without the shadow of all her family's expectations. Because why do what's expected of you when you can fight other genius nerds to the death for a shot at the dream you're sure your family will consider a complete waste of time?
This summer's going to be great.
Am I missing anything good? What releases are you anticipating this month? Which of you have been lucky enough to grab ARCs of these?
(All covers and blurbs courtesy of Goodreads.)